The four corners of flavour
Located in Dingli Street Sliema, Amigos is one of Malta's most reputable food concepts. Taking its inspiration from all four corners of the globe...
Recipes brought to you Exclusively by Amigos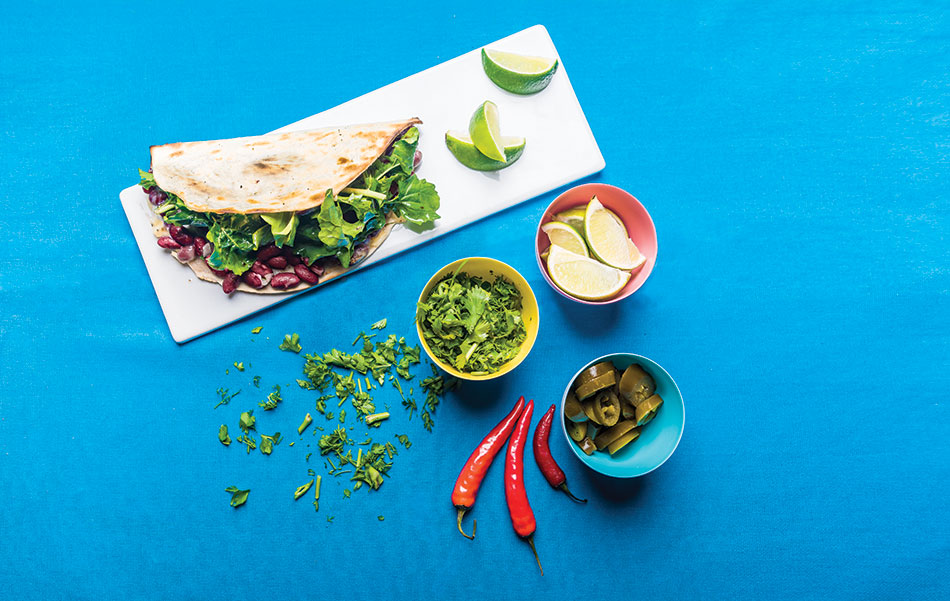 Amigos has built itself a solid reputation in the specialisation of tasty, versatile, and affordable foods. The menu itself consists of a distinct balance of Italian and Mexican recipes – from Sesame Seed Pizza to Mouth Watering Nachos, Gourmet Burgers to Mexican Tacos, Amigos simply has it all. Check out the menu online (www.amigos.com.mt), order a free delivery (Tel: 21332480), and even now download the new app. This article focuses distinctly on the Mexican influences and recipes, thus hoping to add a bit of spice back into your life! From all the Amigos team, we sincerely hope you enjoy the flavours.
BEAN TACO
Without a doubt the healthiest, yummiest taco on the menu. Simply chop a handful of fresh coriander, squeeze the juice of two limes, add red kidney beans, diced red onion, olive oil, garlic, and ground sea salt. Toss the ingredients together leaving out the coriander and rucola. Line them up on a freshly made taco, top with sour cream (use greek yoghurt with a touch of lime if sour cream can't be found) and shredded cheddar cheese. Place in an oven at circa 200C for approximately eight minutes. Remove the taco from the oven and top with the rucola and chopped coriander. And voila, you got it – the famous Amigos Bean Taco ready to eat in the comfort of your own home.
AMIGOS NACHOS DELUXE
Perfect for nights in, football games and movies… This one is a winner. Buy crispy corn-flour nachos from any supermarket, then top with fresh tomato salsa (find recipe under chicken supreme), red kidney beans, sour cream, jalapeños, and cheddar cheese. Place under a hot grill for roughly four minutes, or until the cheese starts
to melt.
AMIGOS GRAND CHILLI JALAPEÑO BURGER WITH JALAPEÑO SKINS
This recipe includes 250 grams of Irish beef, cheddar cheese, caramelised onions, rucola, jalapeños, sour cream, one California roll, and a lot of love. Fry the meat, grill the bun, caramelise the onions, put together, then top with the other ingredients, and let it roll. For the jacket potatoes – boil a potato until cooked through, then cut in two and scoop out a small portion of potato, top with garlic butter, cheddar cheese, sour cream, and jalapeños. Place under a grill and once the cheese melts and the potato browns, you're ready to go.
CHICKEN SUPREME
For all you chicken lovers. Take one chicken breast, dust in flour, dip in egg yolk, then coat in a light breadcrumb, pepper and salt mix. Shallow-fry until crispy on the outside and cooked through the middle. Then cut the chicken into thin strips, place inside the taco, top with fresh tomato salsa (tomatoes cut into cubes, garlic, onion, coriander, a hint of lime, pepper, salt, and olive oil), sour cream, and cheddar cheese. Place in an oven at circa 200C for approximately eight minutes. Remove the taco from the oven, and you've got yourself an Amigos Chicken Supreme. Scrumptious!
AMIGOS HOT CHILLI SAUCE
This classic hot sauce recipe is to die for. It's a hot spice level, so be sure to be prepared! Combine chilli peppers, Harissa, dried chilli, garlic, onions, salt, and oil in a non-reactive saucepan over high heat. Sauté for three minutes. Add water, a little bit of vinegar and continue to cook, stirring occasionally, for about 20 minutes, or until peppers are very soft and almost all of the liquid has evaporated. Remove from the heat and allow to steep until the mixture arrives to room temperature. In a food processor, purée the mixture for 15 seconds, or until smooth. Taste and season with more salt if necessary. Refrigerate. Let it age at least two weeks before using. Enjoy!