Veal Loin
wrapped in Nori with Black Pudding Soil, Roasted Heritage Carrots & Carob Jus
Shoot location: Corinthia Palace Hotel Recipes: Starter, Jonathan Zammit. Main, Stefan Hogan. Dessert, Mark Mc Bride Photography: Matthew B Spiteri Black & white print plates: LOFT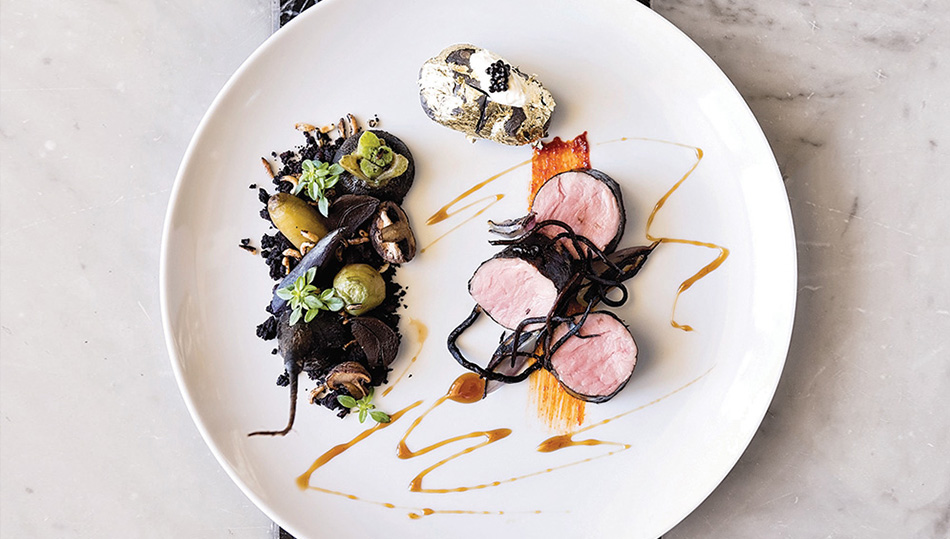 2 pieces veal tenderloin (210g each)
2 sheets nori
2tbsp extra virgin olive oil
½tsp salt
1tbsp olive oil
120g black pudding
50g dried bread crumbs
40g butter
20g sultanas, chopped
1 garlic clove
4 small purple potatoes
45g sour cream
20g caviar
4 gold leafs
(find them at well-equipped art shops)
Rock salt
1 black carrot
1 yellow carrot
1 purple carrot
2 shallots
40g butter
How they did it:
Roast the black pudding until it starts to crumble, then remove from the oven.
In a pan, heat the butter and infuse with the garlic clove, add the crumbs and fry until golden brown. Add the sultanas and the black pudding. Remove the garlic clove and check the seasoning; keep warm.
Wrap the potatoes in tin foil and bake on a bed of rock salt. When cooked, remove from the foil and wrap in the gold leaf.
Cook the carrots separately in boiling salted water. Once cooked, glaze in butter and season with salt.
Wrap the veal tenderloins in cling film and poach for 20 minutes at 50 degrees. Remove and lightly sear in a hot pan with olive oil, then season with salt. Remove from the pan and pat off excess oil, wrap in the nori seaweed and allow to rest.
To plate, spoon some of the black pudding soil and decorate with the carrots, mushrooms and shallots.
Carve the veal and plate with the gold leaf wrapped potato topped with the sour cream and caviar.
Drizzle with the carob infused veal glaze.