Salmon, Lettuce, Crab
The temperatures are dropping and the indulging moments and temptations are rising as we near the festive season. The chefs at The Corinthia Palace present you luxurious dishes that indeed awake a sense of comfort and extravagance. Gather the troops for an treating menu; it's time to merge your social instincts with some nest cocooning.
Chefs: Claire Giordmaina and Mark Mc Bride at The Corinthia Palace.
Tableware and Accessories: all from LOFT and Flamant
Photography by Stephen Galea
Styled by the VAMP Team.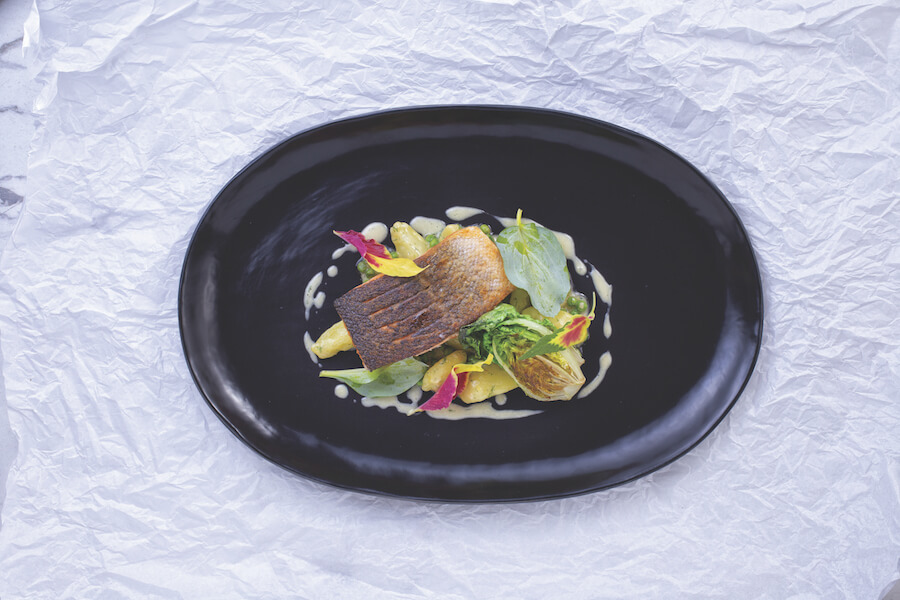 Salmon, Braised Lettuce, Crab
Serves 4
Ingredients
4 pieces salmon, 180gr (skin on, scored)
2 heads baby gem lettuce, halved
16 new potatoes (cooked in the skin and then peeled, halved)
Thyme
50ml fish stock
60g peas
Dill, chopped
½ lemon, juice
50g butter
Salt
Pepper
Oyster leaves (optional) you can substitute with blanched samphire
Beurre Blanc
½ cucumber, seeded and sliced
250g butter
125ml white wine
30ml Chardonnay vinegar
50gr shallots, finely chopped
10g garlic, chopped
2 white peppercorns
60ml fresh cream
1 lemon, juice
½ lemon, zest
Method:
For the beurre blanc, place the wine and vinegar in a pan, add the shallots, garlic and peppercorn. Place over a medium flame and cook to get a syrup like consistency. In a food processor blend the cucumber with a pinch of salt and place in a bowl.
Add the fresh cream to the pan and increase heat. When the liquid starts to boil, reduce the heat and start to whisk in the butter until it has all been incorporated. Remove from the stove and add the cucumber to infuse. Allow to take the cucumber flavour and pass through a fine sieve. Adjust seasoning to taste. Keep warm.
In a non-stick pan place a dash of oil, heat and put the salmon fillets skin side down cook for approximately 3 minutes until golden and crisp; flip over and repeat. Remove from the pan and place on a tray in a warm place.
In a non-stick pan drizzle some oil and heat; place the baby gem lettuce flat side down to get a nice colour flip over and add a sprig of thyme and some cold butter. Baste until cooked (do not over cook it needs to retain its shape); transfer to a dish and keep warm.
In a pan place the fish stock to reduce then add the potatoes, peas, and cook for a few minutes. Add some butter, lemon juice and the chopped dill season to taste.
Brush the oyster leaves with oil – dress the plate as in the photo.