Pigeon with Leg Confit Tart
The temperatures are dropping and the indulging moments and temptations are rising as we near the festive season. The chefs at The Corinthia Palace present you luxurious dishes that indeed awake a sense of comfort and extravagance. Gather the troops for an treating menu; it's time to merge your social instincts with some nest cocooning.
Chefs: Claire Giordmaina and Mark Mc Bride at The Corinthia Palace.
Tableware and Accessories: all from LOFT and Flamant
Photography by Stephen Galea
Styled by the VAMP Team.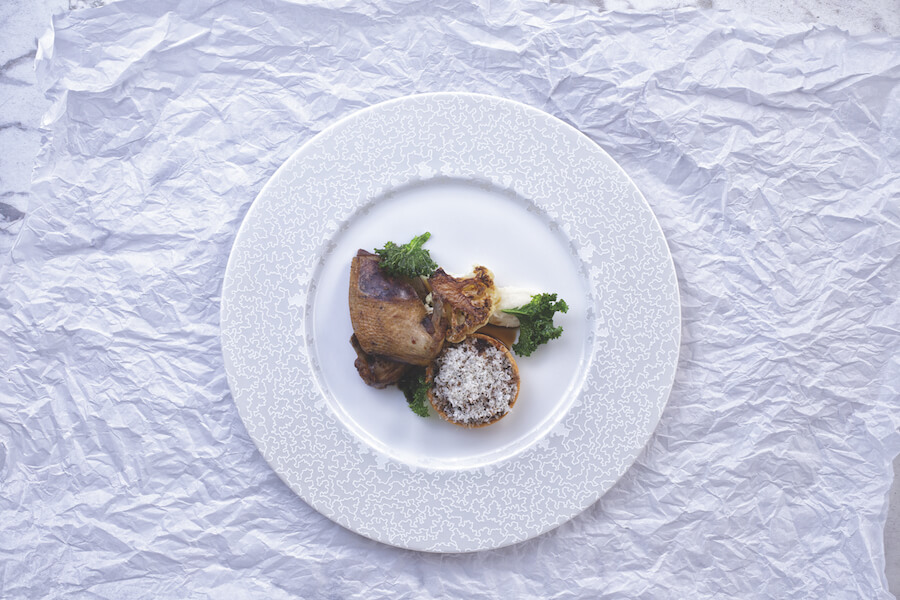 Roast Pigeon with Leg Confit Tart
Serves 4
Ingredients
4 squab pigeons
Sprigs of thyme
½ bay leaf
30ml vegetable oil
Garlic clove
50gr butter
Kale
4 short crust pastry tart (baked blind)
4 large cauliflower florets
1 lemon, juice
15ml sherry vinegar
250gr duck fat
Pigeon Jus
50ml vegetable oil
50gr pancetta
3 shallots, diced
1 stick celery, diced
1 carrot diced
2 peppercorns
Thyme
Bay leaf
200ml red wine
50ml merlot vinegar
1.5l dark chicken jus
Salt
Parsnip Puree
300g parsnips, chopped
40g butter
300ml milk
200ml cream (reduced by half)
Thyme
Salt
Pepper
Method:
Start off by making the sauce. In a pan heat the oil, add the pancetta and cook until golden and caramelised. Add the shallots, celery, carrot, pepper corns and cook until golden. Deglaze with the vinegar, reduce wine and reduce. Pour over the chicken jus and add the thyme and bay leaf. Bring to the boil and reduce heat; simmer for 40 minutes. Strain through a fine sieve to remove any residue and return to heat over a low flame. Reduce to a sauce consistency adjust seasoning just before serving.
Place parsnips, butter, thyme and a pinch of salt in a pot and cook over a low heat until parsnips are soft. Once cooked, strain, remove thyme and place parsnips in a food processor adding just enough milk to get a smooth puree. Pass through a sieve, add the reduced cream (gradually) to get a smooth consistency and season to taste. Return to a clean pan and cover; keep warm.
Wipe the pigeon dry and remove the legs. Salt the pigeon legs for 30 minutes to draw out any excess moisture, rinse off the salt and pat them dry. Render the fat down to 120°C; add the legs. Cook in an oven, set at 120°C, for 2 to 3 hours until completely cooked. Allow to cool and remove from the fat, remove bones. Season to taste. Fill the tarts with the seasoned pigeon leg meat.
Warm a generous amount of oil and when hot, fry kale until transparent, drain and place on absorbent paper, season with salt.
Heat the oil in a non-stick pan and sear the pigeon all over until golden. Add a piece of garlic and some thyme as well as a good piece of butter. Baste until golden brown. Transfer to a roasting tray and cook in a pre-set oven at 185°C, cook for approximately 8 minutes. Remove from the oven and allow to rest. Carve off the bone and serve as shown.