A Yogis Paradise
Rosita Jan, E-RYT® 500, YACEP® is an international yoga teacher trainer and mixed movement teacher, and all-things-yoga business entrepreneur based in Malta. VAMP caught up with Rosita to find out more.
GET INSPIRED, MEET ROSITA JAN.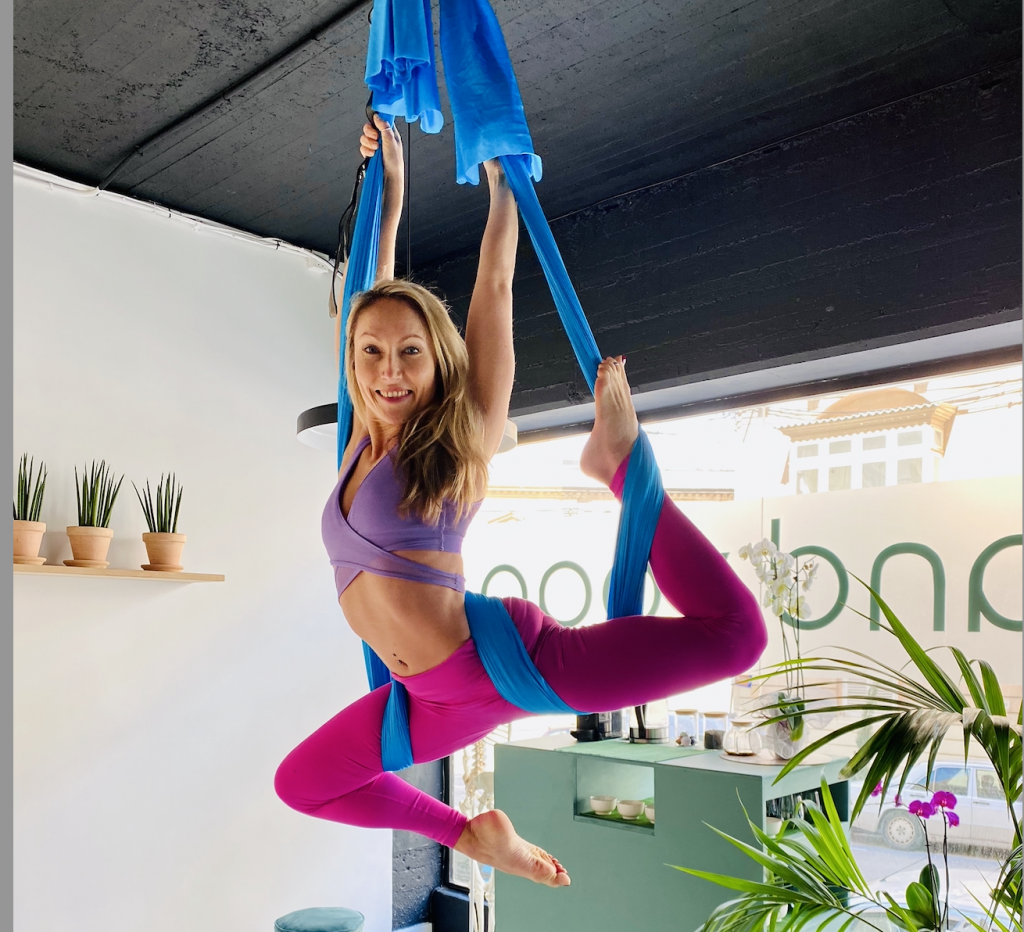 Rosita Jan, E-RYT® 500, YACEP® is an international yoga teacher trainer and mixed movement teacher, and all-things-yoga business entrepreneur based in Malta. VAMP caught up with Rosita to find out more.
Rosita's yoga teaching journey began in 2013 which eventually led her to quitting her job in the corporate world to pursue teaching yoga full time. What started as a fun exercise, progressed into a series of all-encompassing workout systems inspired by yoga, calisthenics, cross-fit, mixed movements, trapeze yoga and SUP yoga. She is the creator of SUP Yoga & Fitness Malta, Trapeze & Bungee Fitness Malta, and the owner of Island Yoga Studio in Malta. Over the last 10 years of her life in Malta she introduced many new yoga styles which are now being offered around the studios and gyms on the island. What's more, Rosita has trained with several internationally acclaimed pioneers within the field, such as Briohny Smyth, Dice Iida-Klein, Honsa & Claudine Lafond, Lucas Rockwood, Mackenzie Mille, Mathieu Boldron, Cameron & Melayne Shayne, Patrick Beach.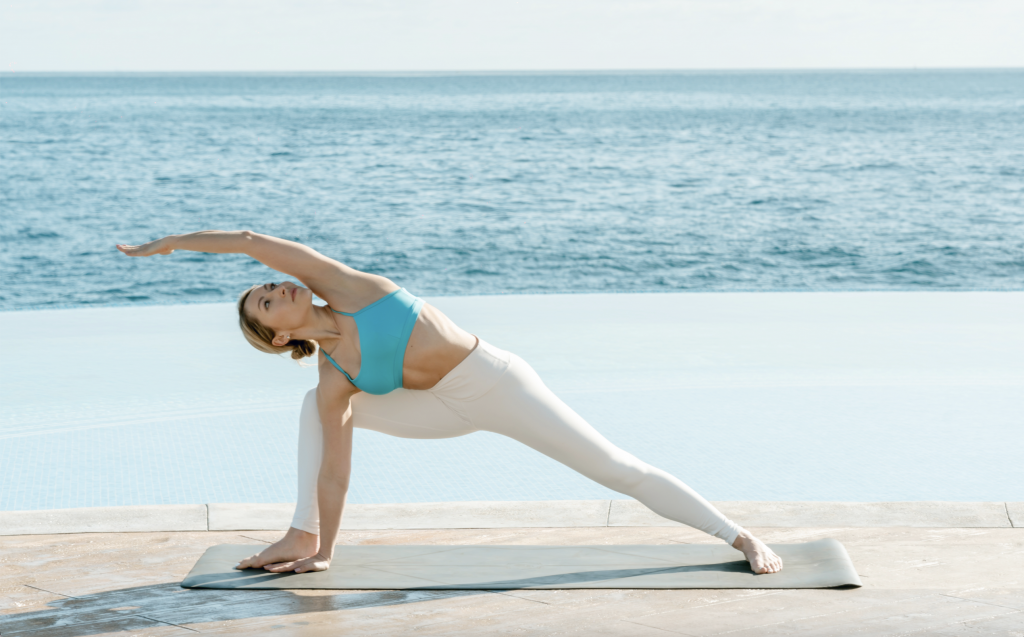 When did your yoga journey begin?
In 2008 I attended my first yoga class in England which triggered my curiosity towards this ancient practice, however, the real journey began in 2011 when my life took me to South Africa, and I got a chance to explore many different styles of yoga. I received my first certification in 2013 at the international capital of yoga – Rishikesh, India.
What the different types of yoga you offer? How do they differ?
There are many yoga styles to suit different needs of students. I have chosen a combination of practices which complement each other to offer the practitioner a well-rounded experience which they can build into their weekly routine. That includes dynamic Vinyasa Yoga for complete beginners and regular practitioners, Yoga for Relaxation & Mobility, different types of Aerial Yoga for spinal decompression and upper body & grip strength, Yoga & Wheel practice (additional yoga prop is incorporated into the class to offer assistance with deeper supported backbends). Aside from the styles mentioned, I also offer fitness-based classes for yoga practitioners to complement their training routine as well as Aerial Hoop classes for those looking to try something new and receive benefits of a stronger body without having to go through a vigorous training session.
Yoga connects the body to the mind like no other sport. Each posture has a meaning and also reflects a mental attitude. In your opinion, how does yoga affect our mental health?
What differentiates yoga from other fitness modalities is that we use our breath to guide us during the practice. Science confirms that our emotions affect the way we breathe, which is also true other way around. To take control of your emotional state you need to regulate your breath. Different breathing practices in yoga can either energise, balance, or calm you down. The latter is usually what is needed mostly in our daily lives. Yoga teaches you to use your breathing to self-regulate and take control of your emotional state which translates directly into one's mental health. During your yoga practice you feel present, connected to your body and that empowers you to take this with you into your life off the mat.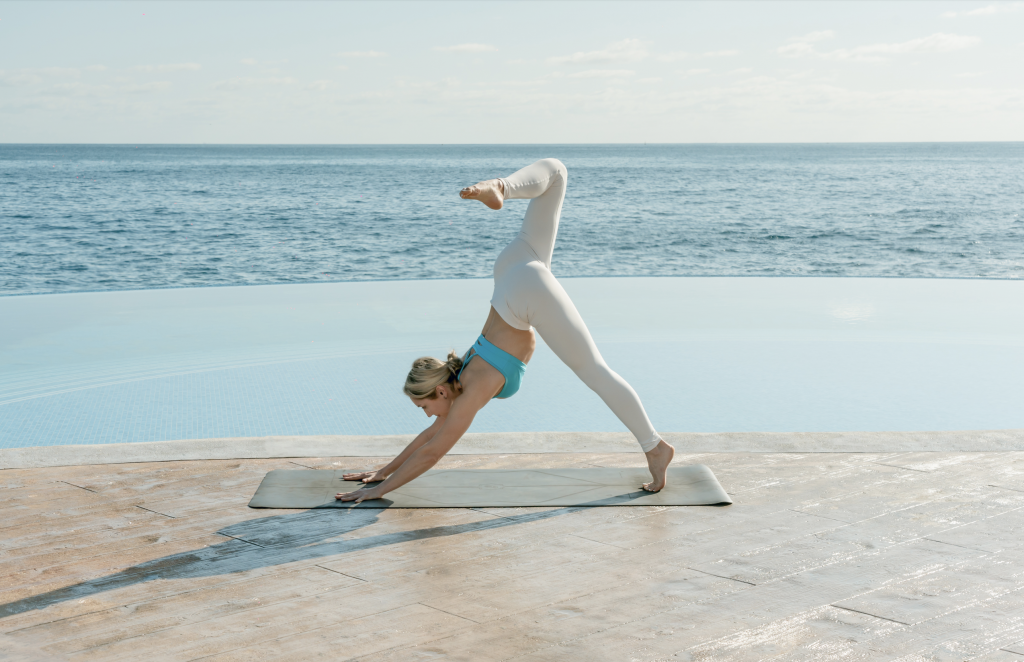 Does yoga help with body confidence?
Yoga is known to help students with body confidence. With the help of the right yoga teacher and their guidance, students embark on an exploration of different yoga poses to build strength, flexibility, balance and most importantly confidence as of these poses might seem challenging at first. As students' progress in their physical practice, their confidence in turn grows.
Yoga knows no age or gender and can be suitable for all, no matter your fitness level. How does yoga bring all people together? What are a few good reasons everyone should practice yoga regularly?
There is something very empowering and special about practicing yoga in a room of like-minded yoga practitioners. You feel motivated, inspired and get a sense of community. There is no competition in yoga, students are always provided with different options of poses to suit their level of practice which means that literally anyone can start this rewarding practice irrelevant of their current level of fitness. Aside from the physical benefits we already discussed, yoga will bring more mindfulness into one's life if practiced regularly.
Have there been any difficult times or moments in your life when yoga has provided you with support and strength? How has this presented itself?
Through yoga I found the courage to take on any challenges that life brings my way. During the most challenging times in my personal life, because of this practice I was able to ground myself into the moment to realise that I indeed had the power to control how I respond to events around me. Yoga brought awareness of my emotional state and helped me to self-regulate with the conscious physical movement and breathing practices. Whatever happens in my life, I know that I can always come back to my yoga mat and my practice, reset, and continue. Yoga to me will always be an integral part of my life.
Why did you become a yoga teacher? Why do you love teaching yoga classes? How important is a sense of community in a discipline like this?
We all have a calling in life. To share and inspire others though yoga is mine. Becoming a yoga teacher provided me with an opportunity to make a real impact on people's lives. It is the most rewarding job I could have asked for. I enjoy seeing my students smiles and happy faces after our classes, my heart gets filled with happiness witnessing their progress in their physical practice and hearing how yoga teachings often impact their daily lives. Through yoga students often make long lasting connections as the community grows together. We socialise before and after classes and that builds a sense of belonging which is what many of us ultimately want.
What impact does yoga have on our relationship with ourselves and our relationships with others?
Yoga teaches us to become an observer of oneself. It teaches us that all that we need is already within us and there is nothing external out there to be attained in order for us to live a happy and content life. Through the practice of yoga, mindfulness and breathing we learn to accept ourselves without any judgement, any expectations and we can learn to make better decisions once our mind and body are more aligned. This in turn teaches that others around us are also like us, as yoga teaches oneness, unity of all living beings. We develop more understanding and acceptance of people around us.
What does a typical day in your life look like? Do you have any rituals or routines that you absolutely can't skip?
Success in life lies in consistency, there are no shortcuts to it. Healthy habits and routines are essential for me. My morning rituals are an integral part of my life. Having the same waking up time during the week is important, therefore I do my best to wake up with sunrise. While I watch the sun come up (this practice helps to improve your circadian rhythm and aids your brain with waking up) with a glass of water and a dash of apple cider vinegar, I list ten things I am grateful for in my life and why (daily practice of gratitude helps you to see a bigger picture of your life and how fortunate you really are with all that you already have); a quick espresso to wake me up and I go for a 20min morning run with a motivational podcast in my ears. Sometimes I add a quick dip in the sea on the way back and that's it – cold shower when I come back, and I am ready to take on my day. Usually all this before 7am while the streets are still empty.
A balanced diet is essential to our physical and mental well-being. Do you have a favourite product that you like to eat before or after your yoga practice?
I am an advocate of a clean, fresh, and simple eating. Our eating habits should be tailored to our lifestyle. What works for one person does not necessarily work for another therefore it is important to avoid all the fad diets out there and instead start listening to your body and learn about how different types of food affect you. I usually have something light before my yoga practice: a piece of fruit, nuts, or some dried fruits for energy, if needed. We do a lot of backbends, twisting and inverting during the practice, so it is important not to have a heavy meal 2 hours before the practice. Plenty of water throughout the day to keep you hydrated is essential, especially during the hot summer months. If I practice in the morning, I will have my breakfast after the class.
We often let the stress and business of everyday life overwhelm us. Can you share a breathing exercise or technique that helps you calm down in these situations?
My go-to breathing technique to balance myself throughout the day:
inhale through the count of 4-3-2-1, hold your breath 4-3-2-1, exhale 4-3-2-1,
hold it 4-3-2-1. Repeat this for 2-5 minutes.
This quick balancing breathing can be practiced at any time during the day, and it will provide a calming effect for when you feel heightened or stressful.
To find out more about Rosita Jan visit: https://rositajan.com