The New Dior and Technogym Limited Edition
Technogym and Dior have teamed up to create an exclusive limited- edition series of fitness products, with the shared objective of inspiring a lifestyle guided by the values of health and excellence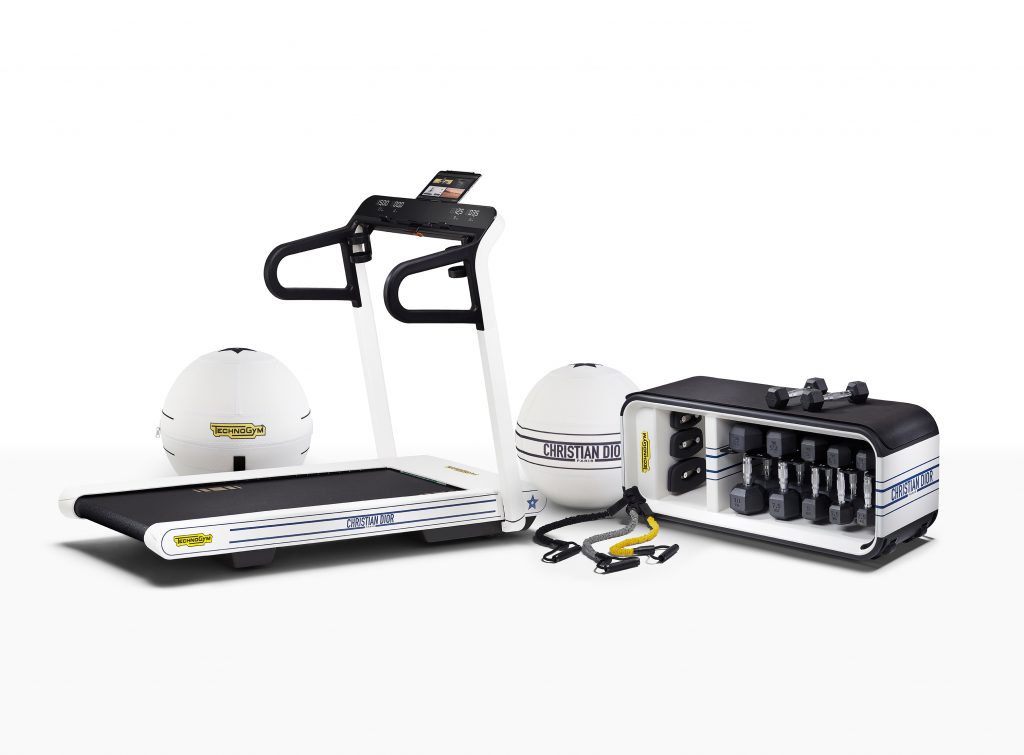 Technogym innovation meets Dior elegance for an exciting design series of limited-edition home fitness products that include a treadmill, a multifunction bench and a wellness ball. The result of an original encounter between the Technogym Research and Innovation center and the Dior creative team, three of the most iconic Technogym products are revisited with Dior codes to become symbols of excellence and attention to detail, embodying the values and culture shared by both brands.
Produced in Italy at the Technogym Village, these special creations reflect a mutual commitment of inspiring a lifestyle that combines physical exercise and style to motivate people living a happier and healthier life.
Nerio Alessandri – Founder of Technogym and Wellness Designer – comments: "This shared goal of excellence gives life to a limited series of innovative Technogym products interpreted with the Maison Dior's unique allure. Created to inspire the concept of wellness with new generations, it also offers people the opportunity to live a unique and irresistible experience"
Available exclusively in Dior boutiques worldwide starting in January 2022, the Dior and Technogym Limited Edition series features:
TECHNOGYM MY RUN FOR DIOR
This stylish, compact and quiet treadmill connects to your tablet and offers a wide range of on-demand running and walking workouts. By simply placing a tablet on the MYRUN console users can choose the on-demand workout by their favorite trainer.
TECHNOGYM BENCH FOR DIOR
This innovative bench offers a maximum variety of exercises options in a small space. Its innovative design includes a series of dumbbells, elastics and knuckles that allow to perform over 200 exercises thanks to an extensive library of on-demand workouts available on the Technogym App.
TECHNOGYM BALL FOR DIOR
Designed to keep you on the move even while sitting, Technogym Ball is both a seat and a wellness tool, with a complete exercise program for flexibility, toning and balance.
ABOUT DIOR
Christian Dior was the designer of dreams. As soon as his House was founded in 1946, and consecrated by the revolution of the New Look, his visionary spirit never ceased to glorify women all over the world. "Fabric is the sole vehicle of our dreams (…). Fashion, in sum, comes from a dream, and dreaming is an escape," he wrote. This exceptional heritage is reinvented by the singular creative passion, force and modernity of the House's Creative Directors who make the Dior magic live on with audacity, excellence of savoir-faire and its unique beauty of the gesture. Maria Grazia Chiuri was named Creative Director of women's haute couture, ready-to-wear and accessories collections for Dior in July 2016, becoming the first woman to hold this position at the House. Across the seasons, and through her many collaborations, she reveals the talents, inventiveness and commitment of artists and artisans from around the world.
ABOUT TECHNOGYM
Technogym is a world leading brand in products and digital technologies for fitness, sport and health for wellness. Technogym offers a complete ecosystem of connected smart equipment, digital services, on-demand training experiences and apps that allow every single end-user to access a completely personalized training experience anytime and anywhere: at home, at the gym, on-the-go. Over 50 million people train with Technogym in 80,000 wellness centres and 500,000 private homes world-wide. Technogym has been Official Supplier to the last eight Olympic Games and it's the brand of reference for sport champions and celebrities all over the world.