Chow down at harbour club
The head chef at harbour club, simon gatt, creates a danish inspired meal for us with mouthwatering results - putting his own twist on danish contemporary cuisine...
Food: Harbour Club Photos: Federico Peltretti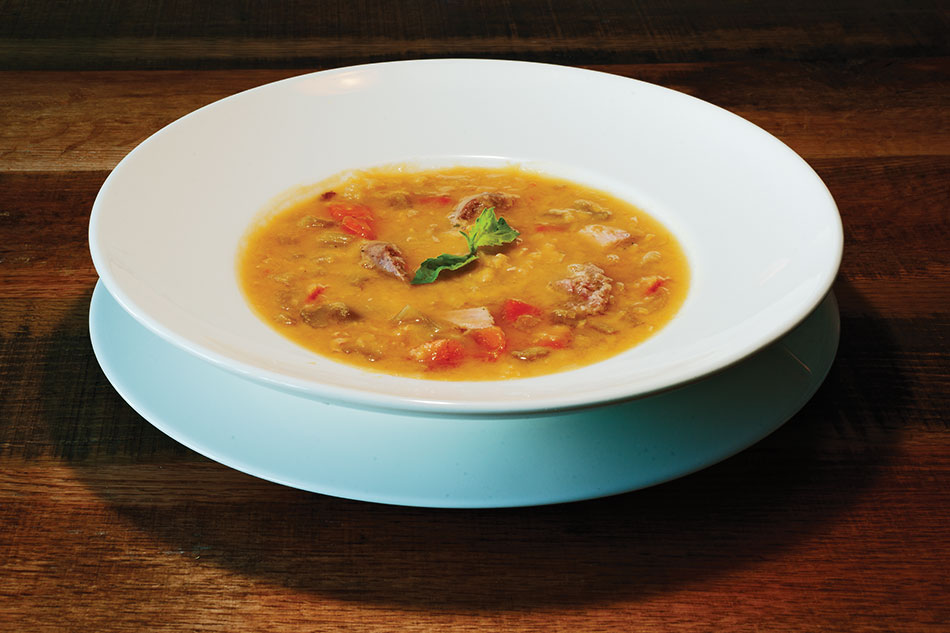 "Simple ingredients, gentle flavours, inspired by danish home cooking"
ELLOW SPLIT PEA AND PORK SOUP
Serves 4
Ingredients
6 tbsp extra virgin olive oil
2 large onions, finely chopped
2 carrots, finely chopped
2 celery stalks, finely chopped
1 bay leaf
2 tbsp tomato puree/paste
300g yellow split peas
Ham bone
1 litre chicken stock
300g pork belly, diced.
Preparation
Start with making a fresh chicken stock by placing a whole chicken or chicken carcass (including any remaining meat) in a large pan together with roughly chopped celery, carrot, onion, bay-leaf, parsley stalks and a litre of cold water. Bring to the boil before reducing to a low heat, then simmer for at least an hour if using a whole chicken and for at least two hours if using a carcass as it takes longer to release the flavour from bones.
In a separate pan, place olive oil, celery, onion, carrot and bay-leaf. Keep on a medium heat to avoid browning the ingredients. Add the tomato paste and cook for a further 5 minutes while still stirring. Add the ham bone, lentils, pork belly and stock. Leave to cook on a medium flame for about 1 hour. Remove the ham bone. Season to taste with salt and pepper.
PAN-FRIED FILLETS OF SEA BASS
Serves 1
Ingredients
2 fillets of sea bass cleaned, with skin
250ml fresh fish stock
100ml extra virgin olive oil
2 tbsp freshly chopped dill
1 tsp sea salt
2 crostini
1 tbsp tomato (de-seeded and cut into small cubes)
Preparation
Make the fish stock with fresh fish bones, celery, fennel, leek and 250 ml water. Bring to a boil, reduce heat to low and simmer for 20-25 minutes – cooking for any longer spoils the flavour.
Pat the fish dry and lay them down, skin up. Rub the skin with a touch of olive oil and sea salt.
Put 250 ml of fish stock in a saucepan and bring to the boil until reduced in volume by half. While still warm, gently pour the rest of the oil into the reduced stock whilst whisking well.
Add the freshly chopped dill and tomato. Set aside and keep warm.
In a heavy-bottomed frying pan, fry the fillets skin side down. Apply some pressure for the first 10 seconds to avoid them curling up. Let them cook all through on the skin until ready.
Stack the fillets, crispy skin side up, in a small bowl of the reduced stock emulsion accompanied by the crostini.
BLACKBERRY PAVLOVA
Serves 2
Ingredients
4 egg whites
100g caster sugar
1 pinch of salt
Few drops of lemon juice
250g blackberries (fresh or frozen)
15ml apple cider vinegar
1 tbsp treacle
1 tbsp demerara sugar
150ml mascarpone
Preparation
Place egg whites, salt, lemon juice and caster sugar into a bowl and whisk until stiff. Line a baking tray with baking or silicone paper, pat and spoon the stiff egg whites onto the baking sheets in 4 circles, 1-2 cm thick. Bake in warm oven (100°C) for 1½ to 2 hours until dry. These can be prepared beforehand and stored for up to 2 to 3 days in an airtight container.
Fold 200g of the blackberries into the mascarpone and set aside.
Heat remaining 50g of the blackberries in a saucepan with the sugar, treacle and cider vinegar until a syrup consistency is reached.
Make the two pavlovas by sandwiching the berry mascarpone between two of the meringue circles and drizzle with the rich berry sauce.