Med Flavours 
Once again, the chefs at The Corinthia Palace tease our taste buds with some in-season colourful and juicy dishes that arouse all the senses.  
Photography by Tonio Lombardi
Executive Sous Chef, Jonathan Zammit.
Chef de Partie, Claire Giordmaina.
Pastry Chef, Mark Mc Bride.
Starter: Langoustines asparagus, duck zabaglione, za'atar coated crispy egg, beurre noisette dressing by Chef de Partie, Claire Giordmaina.
Main Course: Beef Rib Eye, Beef Cheek Moussaka, Garlic and Barrel Aged Feta Puree, Beef Broth Dashi by Executive Sous Chef, Jonathan Zammit.
Dessert: Chocolate and Raspberry Tart, Grape Sorbet by Pastry Chef, Mark Mc Bride.
Langoustines, asparagus, duck zabaglione, za'atar coated crispy egg, beurre noisette dressing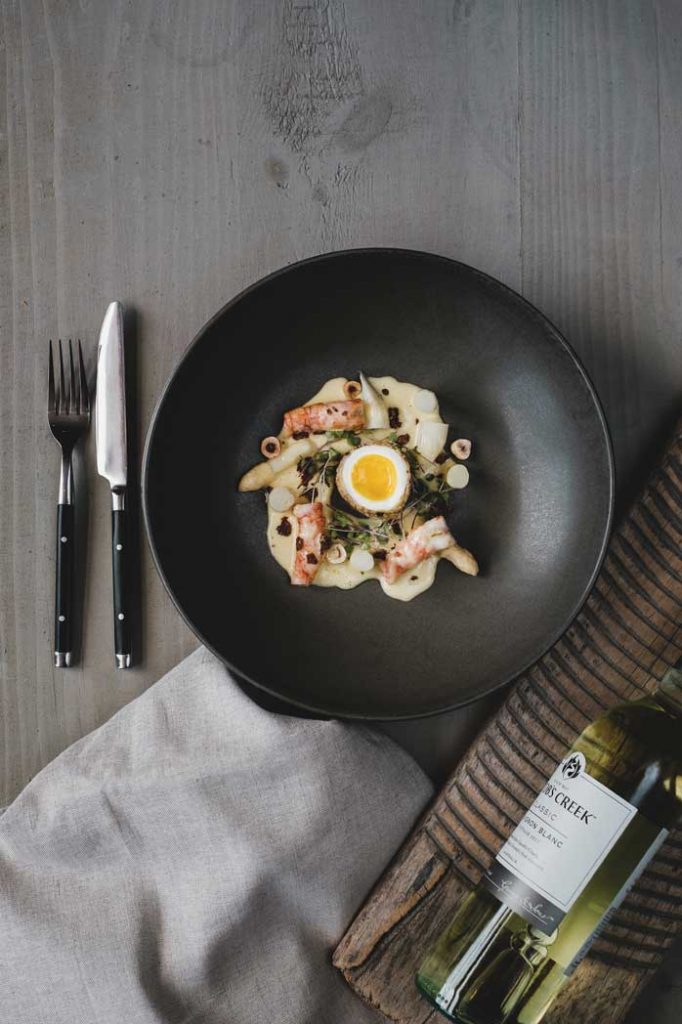 INGREDIENTS
Duck consommé for sabayon
750 gr Duck bones
25g celery, large dice
50g onion, large dice
25g carrots, large dice
9g garlic, minced
½ bay leaf
0.5g fresh Thyme
150ml water
375ml white chicken stock
10ml vegetable oil for roasting
Method:
Use a cleaver or the thickest part of a large knife to chop the duck bones into small pieces. Roast the bones in the oven set to 180°C until golden. In a separate tin, roast the vegetables in the same oven until golden. Once cooked, combine the bones with the vegetables and add the 9g of garlic, pinch of thyme and bay leaf. Continue to roast for 2 additional minutes.
Meanwhile, add the water and chicken stock to a pan and bring to the boil. Drain any excess fat that comes from the bones and add along with the vegetables to the stock pot and simmer for 20 minutes. Drain, pass through muslin cloth and allow to set in the fridge. Once cool, remove the fat from the top when set.
For the clarification, remove the fat and sinew from the duck breast. Roughly chop and place into a food processor. Blend with the carrot to form a minced paste, remove and place into a bowl.
Whisk the egg white very lightly to break up slightly. Place the cold duck stock into a pan and warm on the stove. Once lukewarm, whisk the egg whites into the meat until thoroughly combined and whisk the entire mixture to disperse into the stock.
Line a sieve with a piece of muslin and gently ladle the crust into the sieve and then slowly ladle the liquid over the crust. Allow time for the liquid to pass through the crust. Pour back liquid in pot and reduce by half, not boiling.
Duck Zabaglione
Ingredients
2 egg yolks
60ml of duck consommé
1 pinch of salt
½ lemon, juiced
Method
Combine the egg yolks and consommé in a bowl. Whisk, with a balloon whisk, over a bain-marie, set to 90°C. Take off the heat, then continue whisking until it reaches 70°c. It should be light and fluffy. First season with salt, then with lemon juice.
Za' atar Crisp Fried Hen Egg
Ingredients
4 eggs
1 tablespoon fresh thyme- crushed
1 tablespoon ground cumin
1 tablespoon ground coriander
1 tablespoon toasted sesame seed
1 tablespoon Sumac
½ teaspoon salt
¼ teaspoon Aleppo chili flakes
100g panko breadcrumbs
1ltr vegetable oil for frying
15g plain flour for pane
15ml beaten eggs for pane
Method
Soft boil the hen eggs for 5 minutes and chill in cold water. Peel the eggs carefully and pat them dry. Pass them through seasoned flour, beaten egg and panko za' atar crumbs. Heat the oil for deep-frying to 170˚c. Deep fry the eggs for 1.5 minutes until light golden and drain on absorbent paper. Season with a pinch of sea salt.
Crisp Duck Skin
Ingredients
Skin of ½ duck breast
3g chopped rosemary
Method
Preheat the oven to 180°c. Lay the skins skin-side down and scrape off any excess fat and remaining meat from the insides. Place skins stretched out flat on a greaseproof-lined baking sheet. Sprinkle with a pinch of flaky salt. Lay a second sheet of greaseproof paper over the skins then weigh down with another tray.
Place in the oven for 10–15 minutes until golden and crisp. Drain the skins on kitchen roll and sprinkle with sea salt and rosemary.
Beurre Noisette Vinaigrette
Ingredients
125g unsalted butter
5ml sherry vinegar
Sea salt and freshly ground black pepper
Method
Heat a frying pan over a medium-high heat, add the butter and cook for a few minutes, whisking gently. The butter will foam then subside, but you'll need to keep a close eye on it to prevent burning. Watch for lightly browned specks forming on the butter and you'll also get a nutty aroma. Take the pan off the heat at this point and let it cool down to prevent further cooking.
Swirl to combine the sherry vinegar, and then remove from the heat immediately. Season with salt and pepper.
Pan seared Langoustine
Ingredients
6 medium langoustines
30ml vegetable oil
10ml langoustine oil
1 clove garlic
Method
Blanch the langoustines in salted boiling water for 10 seconds. Drain and place into a bowl of ice to cool down. Once cool, peel the langoustines, insert a skewer to keep the langoustine straight and place on a tray.
In a pan, add oil and butter on medium heat. Add garlic and place the langoustine and sear for a minute. Baste with the brown butter. Season.
White Asparagus
8 pieces white Asparagus
Method
Start by peeling away the outer skin of the asparagus and chopping away the hard, woody base. Half fill a large pan with duck consommé and bring to the boil, add the white asparagus and cook until tender. Dress the asparagus with the beurre noisette vinaigrette and season.
Salad Garnish
Ingredients
Centre leaves from French curly endive
Micro cress
½ roasted hazelnuts
Method
To dress the plate, arrange the asparagus and langoustines around the edge of the plate. Spoon a generous amount of zabaglione around the ingredients leaving room in the centre. Dress the curly endive and cress with the beurre noisette dressing and make a nest in the centre of the plate. Cut the top of the crisp fried egg to expose the soft yolk and place in the middle, scatter over the crisp duck skin.
Serve immediately.
40-day aged Beef Rib Eye, Beef Cheek Moussaka, Garlic and Barrel Aged Feta Puree, Beef Broth Dashi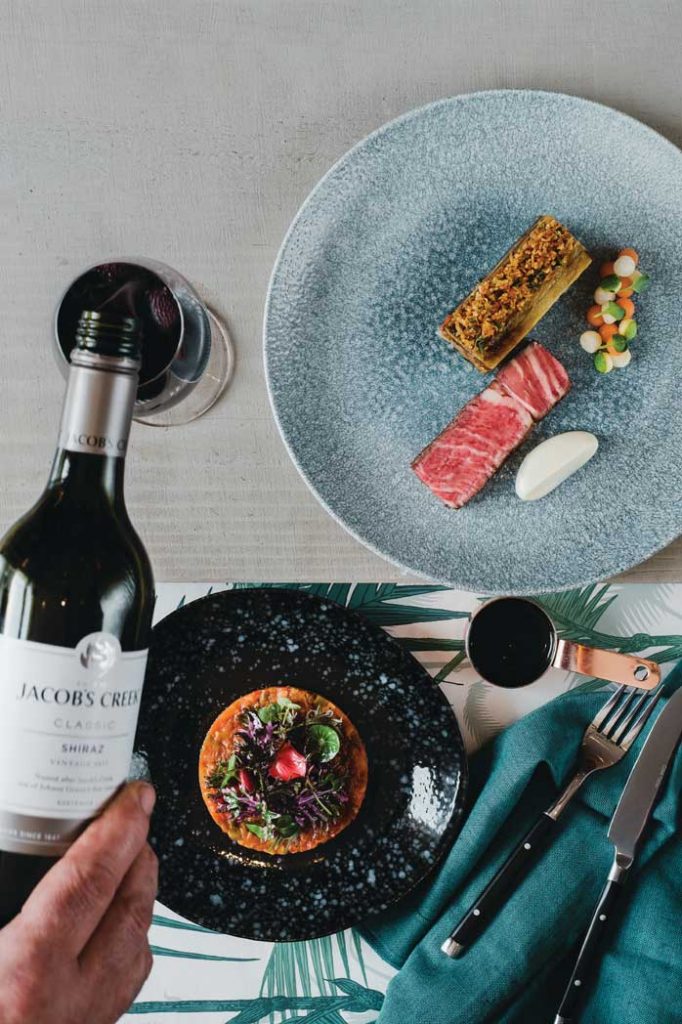 Nasturtium and Vanilla Vinaigrette
Ingredients
120g Nasturtium petals
250g white balsamic
1g vanilla pod
200g extra virgin olive oil
Seasoning
Method
Place the nasturtium petals, balsamic and vanilla in a vacuum bag, seal and macerate. Allow the flavors to develop overnight. When ready to use, whisk in the olive oil.
Garlic and Barrel Aged Feta Puree
Ingredients
225g garlic, peeled
500ml milk
35g barrel-aged feta
Method
Blanch garlic in boiling water, drain and refresh. Place the garlic in the milk and bring it to the boil. Reduce the heat and simmer for three minutes. With a slotted spoon remove the garlic from the milk and place in a blender with the barrel-aged feta. Blend to a smooth consistency. If necessary, add some reserved brine from the feta cheese. Pass through a fine sieve, taste and adjust seasoning if needed.
Beef Dashi
Ingredients
60g smoked pancetta
1 shallot, sliced
1 garlic clove, chopped
20ml Cabernet Sauvignon vinegar
375ml beef stock (braising liquid from the beef cheek)
50ml Kombu dashi (Japanese stock)
20ml extra virgin olive oil
Method
Heat a little olive oil in a deep pan. Add the pancetta and cook over a medium flame until golden brown. Add the shallots and garlic and cook for a further few minutes until all the ingredients are golden brown.
Add the kombu dashi and vinegar and bring to the boil. Reduce heat and simmer until reduced by half. Pour in the beef stock and bring back to simmer. Keep skimming to remove any impurities.
Remove the pan off the heat and strain the dashi through a muslin cloth.
Check to season and adjust if needed.
Beef Cheek Moussaka
Ingredients
1 beef cheek
10ml extra virgin olive oil for cooking
½ carrot peeled, chopped
½ onion chopped
½ celery stick chopped
250ml red wine
750ml veal stock
750ml chicken stock
Method
Remove the sinew from the cheek. Sear in a pan for 2 minutes on each side until evenly browned. Add the chopped vegetables and stir occasionally for 8-10 minutes. Pour in the red wine, reduce and add the stocks. Braise for 8 hours in an oven at 80˚c.
Tomato compote:
Ingredients
1/2 onion finely chopped
2 garlic gloves chopped
1/2 eggplant, peeled and chopped
½ red pepper, deseeded and chopped
½ yellow pepper, deseeded and chopped
½ green pepper, deseeded and chopped
½ red chili deseeded and chopped
40g root ginger
1/2 teaspoon mustard seeds
Extra virgin Olive oil to cook
1/2 teaspoon fennel seeds
1/2 teaspoon coriander seeds
5 fresh tomatoes chopped
Reduced white balsamic
Method
Heat a little olive oil in a pan, add the onions, garlic and sweat for 5 minutes, keep stirring. Add all the other chopped vegetables with the chili and ginger.
Sweat the vegetables for another 10 minutes and add spice seeds. Tip in the fresh chopped tomatoes. Continue to cook over a medium heat for about 20 minutes, until the tomatoes have cooked down and the mixture is quite thick. Add a splash of white balsamic vinegar reduction and season.
Baby eggplant confit:
Ingredients
6 baby eggplant
2 pcs, 1cm thick eggplant cut lengthwise
500ml extra virgin olive oil
2 cloves garlic
Sprig thyme
Sprig rosemary
2 pcs black peppercorn
Method
Place the baby eggplant in a small saucepan and pour in enough olive oil to cover them. Add the garlic, herbs and peppercorns. Place over medium heat, bring the oil to a simmer and then reduce the heat to as low as it can go. Cook for about 45 minutes, until the eggplants are soft and tender. For the sliced eggplant, pan sear with olive oil, garlic and thyme.
When cooked, transfer the eggplants on kitchen towel to soak up some oil. Remove the skin of the baby eggplant.
Potato Crumble
Ingredients
200g russet potatoes
300ml vegetable oil
10g fresh oregano
Method
Peel and cut into a fine julienne, place in a fine-mesh strainer and rinse under cold water. Transfer to a kitchen towel and wring out the excess water. Heat the oil in a large pot over a medium heat. Add the potatoes and whisk continuously thus breaking up the starch and preventing from burning. Strain and drain on a paper towel, roughly chop and while hot, season and add the fresh oregano.
Assembly of Moussaka:
Line a up a terrine mold with baking paper. Start the first layer by compressing the baby eggplant followed with a spoonful of the tomato compote.
Layer some pulled beef cheek and finish with the pan –eared eggplant. Compress the moussaka, remove from the mold and garnish with the potato crumble.
Butter Sous Vide Rib-Eye
Ingredients
400g rib-eye
600g clarified butter
1 sprig thyme
1 garlic clove, crushed
Method
Preheat immersion circulator to 53°c with 600ml clarified butter, sprig of rosemary and garlic. Sear rib eye in a hot pan. Immerse in the butter and leave to cook for 45 minutes.
Remove the steak and pat dry. Place on a resting rack and caramelize the sides using a blow-torch for a char flavor. Slice 1cm in thickness for each portion, lengthwise.
Summer vegetables:
Ingredients
100g carrots
100g baby turnips
100g dark courgette
300ml chicken stock
50g salted butter
½ lemon
5g butterfly sorrel for garnish
Method
Bring a pot with stock to a boil. Prepare vegetables using a solferino scoop.
Blanch the vegetables separately for 2 minutes until they are tender. Use a slotted spoon to remove the vegetables from the stock.
In a pan, do an emulsification of chicken stock, butter and ½ juice of a lemon. Season to taste.
Garnish and assembly
For the side dish, spoon some tomato compote in a mold ring. Dress the baby kale and nasturtium flower with the vanilla vinaigrette. Build the salad on top of the tomato compote.
Place the beef moussaka on a warmed serving plate, then lay a piece of carved rib-eye with a sprinkle of fleur de sel.
Quenelle a small mound of garlic and feta puree. Arrange neatly the summer vegetables and garnish with the sorrel.
Serve with individual beef dashi on the side.
Chocolate and Raspberry Tart, Grape Sorbet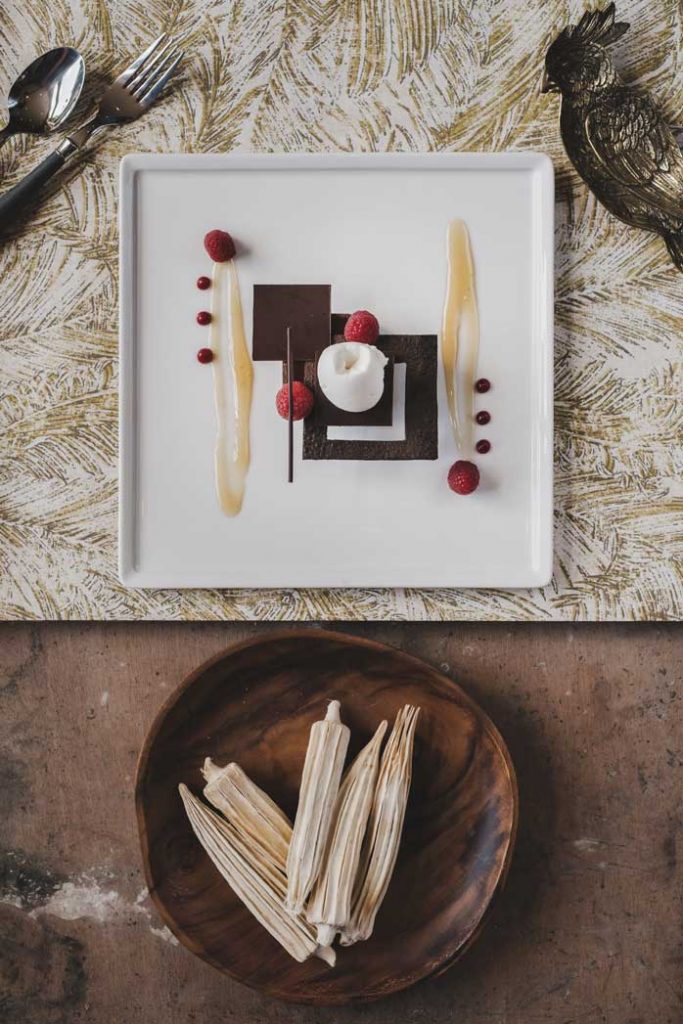 Ingredients
Makes 6 small tarts
90g butter, frozen
220g plain flour
40g cocoa powder
80g icing sugar
1 pinch salt
1 teaspoon baking powder
1 teaspoon vanilla extract
2 egg yolks
Method
Place flour, cocoa, icing sugar, salt and baking powder in a large bowl; mix well.
Beat the egg yolks with the vanilla extract in a small bowl; add to the dry mixture and mix with a silicon spatula.
Remove the butter from the freezer and coarsely grate it into the bowl. Use your fingertips to quickly combine into a ball of dough, adding a tablespoon of iced water if it's too dry.
Wrap in cling film and refrigerate for 1 hour before using.
Line tarts and bake.
Cut out squares of sweet pastry to use for garnish
For the filling
Ingredients
400ml double cream
400g dark chocolate
160g raspberry puree
2 eggs
6 raspberry per tart for filling, 2 per tart for garnish
Method
For the filling, put the cream and raspberry puree in a saucepan, bring to a boil and pour over beaten eggs. Strain and pour onto chocolate. Mix well until smooth and silky. Dot the raspberries over the base, pour over the chocolate and chill for at least 5 hours until firm, or overnight.
Grape Sorbet
Ingredients
550ml grape
150g caster sugar
Juice 2 lemons, sieved
Method
Bring the grape juice to the boil in a small pan, pour it over the sugar in a bowl and stir until dissolved, and then add the lemon juice. Leave to cool completely, then cover and chill the solution for several hours or overnight.
To freeze: if using an ice-cream maker, follow the instructions for the machine, then scoop the sorbet into a container, seal and freeze for several hours or overnight.
To serve: if the sorbet has frozen very hard, you may need to remove it to the fridge a few minutes before serving.