Bronte Pistachio Cake
VAMP kicks off summer in style with laid-back eats cooked up by The Summer Kitchen at Corinthia Palace Attard.
Photography by Alan Carville Food by Mark McBride, Matthew Agius and Ryan Pisani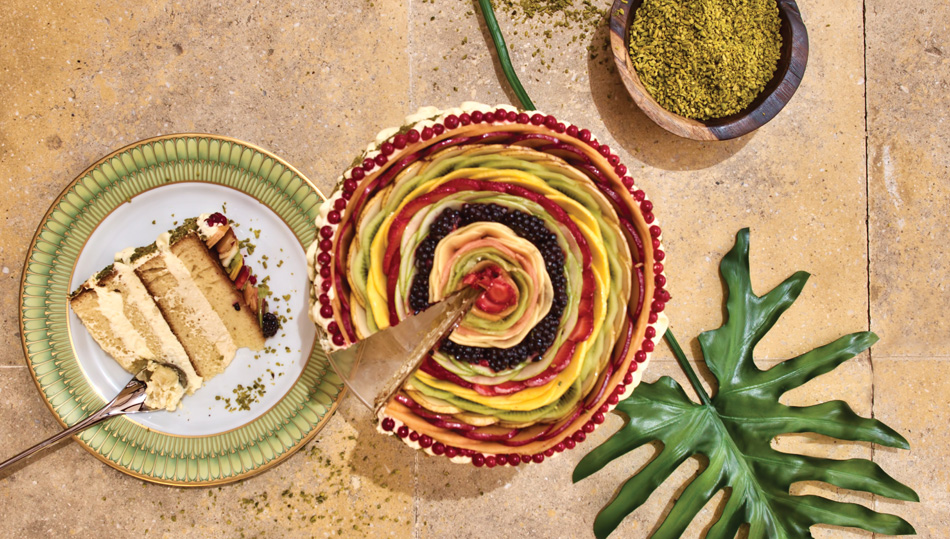 Bronte Pistachio Cake
Serves 6
For a 22 cm round baking pan:
300g Bronte pistachios (or regular pistachios), finely ground
250g sugar
7 eggs, separated
75g flour + extra to spread on the baking pan
a pinch of baking powder 
knob of butter for greasing the pan
100g Bronte pistachio cream (can be bought in small bottles)
Pistachio butter:
150g Bronte pistachios (or regular pistachios), coarsely chopped
100g softened butter, diced
50g icing sugar
1 tablespoon water
Pre-heat oven to 170 degrees Celsius. Grease and flour baking pan. Whip egg whites until stiff. Whisk egg yolks and sugar together until the mixture becomes creamy. Add flour, finely ground pistachios and baking powder to the egg yolk mixture. Add egg whites slowly, mixing with a spatula. Pour batter in the baking pan.
Bake at 170 degrees Celsius for about 45 minutes or until the top part colours. Check by pricking the centre of the cake with a toothpick. If it comes out clean, then it's cooked. Let it cool.
To make the pistachio butter: Put 2/3 of the pistachios in small bowl. Add a tablespoon of water and mash them with a pestle until it becomes mushy. Add diced butter and icing sugar and mix well.
Cut the cake in half horizontally. Spread the pistachio butter and sprinkle with some pistachios (the remaining 1/3 of coarsely chopped pistachios). Slice seasonal fruits of your choice and lay on top, starting from the outer rim inwards. Dust with icing sugar, place in fridge until ready to serve >>