Cottage pie
Ingredients: 500g extra lean minced beef 1 clove garlic, crushed 1 large onion, finely chopped 2 carrots, cut in small dice 2tbsp plain flour 500ml beef stock 1tbsp Worcestershire sauce 1tbsp tomato puree Salt and ground black pepper For the topping: 500g peeled potatoes, halved or, (if large, quartered) 225g carrots, sliced 1 tbsp low-fat … Continued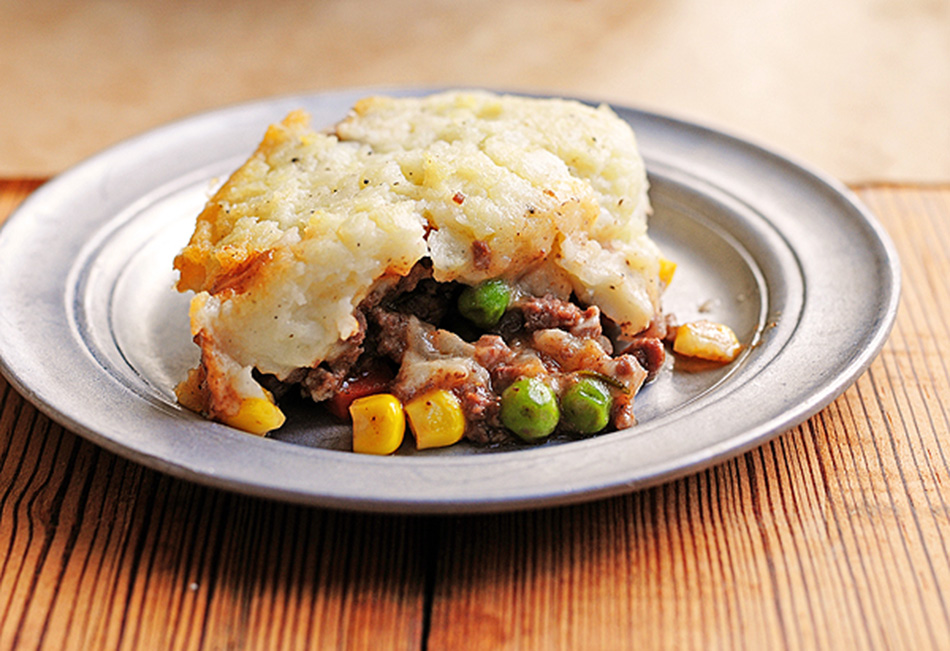 Ingredients:
500g extra lean minced beef
1 clove garlic, crushed
1 large onion, finely chopped
2 carrots, cut in small dice
2tbsp plain flour
500ml beef stock
1tbsp Worcestershire sauce
1tbsp tomato puree
Salt and ground black pepper
For the topping:
500g peeled potatoes, halved or, (if large, quartered)
225g carrots, sliced
1 tbsp low-fat butter
Method:
Heat a large non-stick frying pan and add the mince. Cook for 6 mins, stirring occasionally, until browned. Add the garlic, onion and carrots and cook for a further 2 minutes. Stir in the flour and cook for 1 minute.
Add the stock to the pan, stirring, then add the Worcestershire sauce and tomato puree. Season with black pepper, bring to the boil and simmer for 10-15 minutes, removing the lid for the final 5 minutes so that all the liquid is absorbed.
Meanwhile, cook the potatoes and carrots in a large pan of lightly salted water for 15 minutes until both are tender. Drain well then mash with the low-fat butter. Season with black pepper, cover and set to one side.
Spoon the mince into a large shallow dish, then top with the carrot and potato mash, smoothing the surface. Place under a preheated grill for 4-5 minutes or until the top is golden brown. Serve hot with steamed vegetables of your choice.