Onion soup with sage & cheddar
Ingredients: 1 tbsp butter 2 tbsp olive oil + extra for serving 1 good handful fresh sage leaves, 8 leaves reserved for serving 6 cloves garlic, peeled and crushed 5 red onions, thinly sliced 3 shallots, thinly sliced 3 large white onions, thinly sliced 300g or 3 good sized leeks, thinly sliced Salt and ground … Continued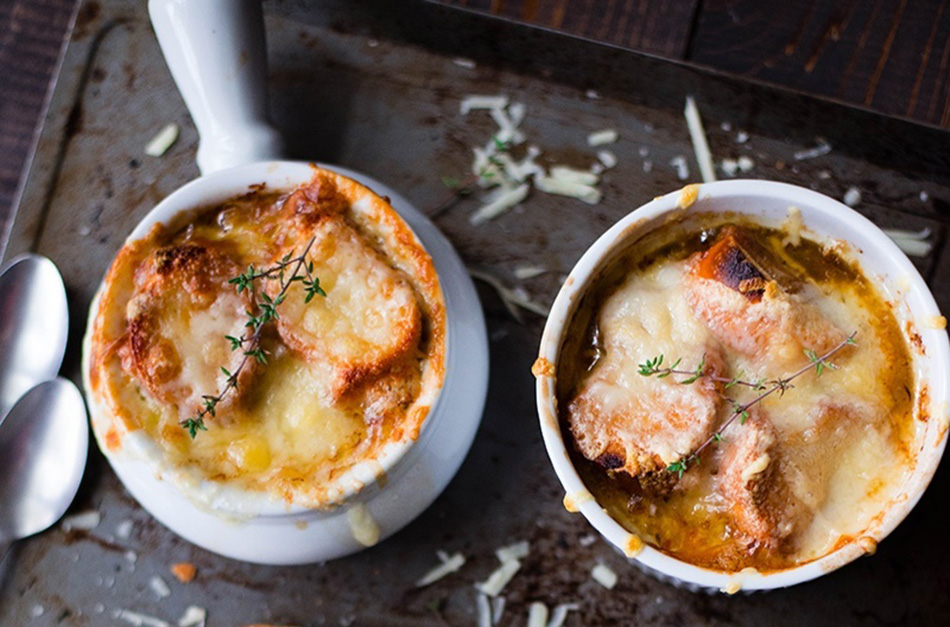 Ingredients:
1 tbsp butter
2 tbsp olive oil + extra for serving
1 good handful fresh sage leaves, 8 leaves reserved for serving
6 cloves garlic, peeled and crushed
5 red onions, thinly sliced
3 shallots, thinly sliced
3 large white onions, thinly sliced
300g or 3 good sized leeks, thinly sliced
Salt and ground pepper
2 litres vegetable stock
8 slices toasted white bread
200g freshly grated cheddar cheese
Method:
Put the butter, 2 tbsp of olive oil, sage and garlic into thick-bottomed, non-stick pan. Stir to mix then add onions, shallots and leeks. Season with salt and pepper, place a lid on the pan, not covering completely, and cook slowly for an hour, without colouring the vegetables too much. Remove the lid for the last 20 minutes – the onions will become soft and golden. Stir occasionally so that nothing catches on the bottom.
Add the stock. Bring to the boil, turn the heat down and simmer for 10-15 minutes.
Preheat the oven or grill. Toast your bread on both sides. Season the soup to taste then ladle into eight individual heatproof serving bowls and place on a baking tray. Tear slice of toasted bread for each bowl to fit it like a lid. Sprinkle with some grated cheddar and drizzle over a little Worcestershire sauce.
Sprinkle your reserved sage leaves with some olive oil and place one on top of each slice of bread. Put into preheated oven or under grill to melt the cheese until bubbling and golden, making sure it does not burn. Serve.