Pea mousse with courgettes & mint granita
Executive Sous Chef Jonathan Zammit, Chef de Partie Victor Vella & Chef de Partie Reuben Borg from Corinthia Palace Hotel prepare some stunning recipes.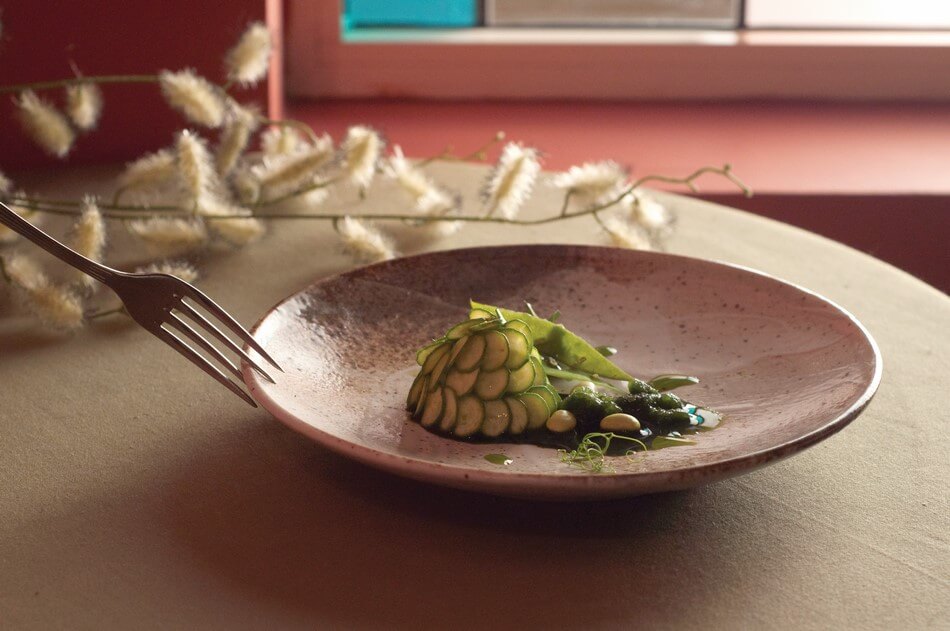 Ingredients
For the Pea mousse
600g peas
120ml soy milk (chilled)
90ml extra virgin olive oil (chilled)
4g salt
Pinch of sugar
2 gelatine leaves
Mint granita
150g mint leaves
500ml water
2g salt
40g castor sugar
100g spinach
Method
In a blender, place the peas, chilled soy milk, cold oil, salt and sugar, then blend and pass through a fine sieve. Bloom the gelatine leaves in cold water and when soft, squeeze off excess water. Place in a small bowl and mix with 100ml of the pea puree, melt over a bain-marie until gelatine has dissolved. Pass through a fine sieve to add to the remaining puree. Chill until needed.
Blanch the spinach in boiling salted water for a few seconds and transfer to a bowl of iced water to refresh. Bring the water, salt and sugar to the boil until the sugar has dissolved. Allow to cool and chill. Place the mint and spinach in a blender with the syrup blend and pass through fine muslin to ensure no solids pass. Place in a shallow tray in the freezer. Every so often take it out and run a fork through it to get separate ice crystals.
To dress: pipe a generous amount of the pea mousse onto the plate, decorate with thinly sliced baby courgettes, peas, edamame beans, granita and a fresh herb olive oil.